Welcome To The Willwriting Service (Reading)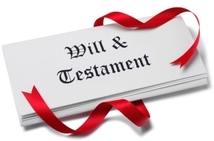 Only 1 in 3 people

in Great Britain makes a Will. To make a Will is of vital importance, gives added security to loved ones, and benefits family, friends, and causes you hold dear.
For people who die intestate (have not made a Will) their estate will be shared according to the

rules of intestacy

, and if there are no living relatives, then all of their estate will go to the Treasury.
The benefits of making a Will are:
1. You decide who will manage your affairs after your death.
2. You decide who will raise your young children (especially important if a couple are not married).
3. You can maximise your

Inheritance Tax Allowance

.
4. You are able to leave money and/or personal items to specific members of family or friends.
5. You may indeed wish to ensure one or more of your family members cannot benefit from your death.
6. If you have a business a Will will prevent your accounts being frozen and causing financial hardship and stress to the family.
7. Only through a Will can you specify who should receive your share of a

jointly owned property

.
Once you have made your will, keeping it up to date is of equal importance.
Throughout ou
r lives our circumstances change,and it is through the Willwriting Service (Reading) that you can update your will, as and when neccessary, so that it accurately reflects your current wishes.
Making a will brings security, reassurance, and peace of mind, not just to you but those who depend on you!
Our Network of fully trained consultants covers the whole of the south of England.
You can simply arrange for our local consultant to visit you at a mutually convenient time at your home.


The Willwriting Service (Reading) also has consultants in Swindon, Hertfordshire, Oxford, Hampshire, and London.
Telephone us now on

0790 388 4278