Will and Document Storage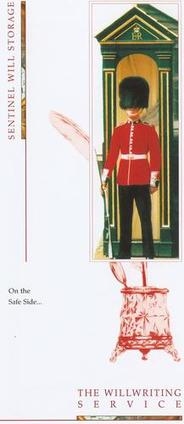 Your home is a convenient place to keep your Will, but this is a most important document. Unless you have a fireproof safe, there is a considereable risk of accidental loss, robbery or destruction by fire, flood or tampering over the many years it is likely to be stored. In response to thousands of customer queries about where they should store their Will, the Willwriters' Association have created Sentinel Will Storage - a safe holding within a fireproof, high security storage.
The Willwriting Service (Reading) can arrange to place your important documents into safe and secure storage and you will be given a lifetime number for retrieval.
Indeed any of your other important documents, such as insurance policies and deeds, can be placed into storage using Sentinel Storage for a small annual fee.
For further information and details of this service please feel free to contact us on
0790 388 4278