Make A Will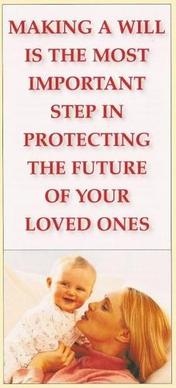 The benefits of making a Will are numerous. This comprehensive service includes a full consultation in the comfort of your own home.
Making a Will brings security and peace of mind.
Wills are drafted by a qualified consultant operating in your area.
The Willwriting Service (Reading) provides a complete service from start to finish to make the process of making your Will simple, affordable, and painless

.
Advice can be given regarding executorship, legacies, guardianship, inheritance tax planning, property trusts, and many more issues, in fact, every situation can be dealt with.
Taking your instructions usually takes just over an hour, and there is no extra charge should more time be required. Your draft Will will be sent to you and after any stipulated amendments/additions we will send you the original Will for execution (signing).
The original document will be guaranteed to be valid and is always securely bound to prevent tampering, and the option of storage is offered at a small annual cost.
The Willwriting Service (Reading) is a company that are more than happy to answer any queries along the way, at no extra charge, to ensure that you fully understand your new Will, and are confident that your assets and personal gifts are allocated as you so wish.
Call us now on 0790 388 4278